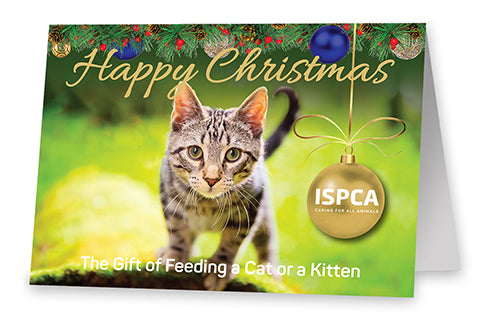 The Gift of Feeding a Cat or Kitten Christmas 2023
Card or Ecard
€20.00
There are many cats and kittens in the ISPCA's care, and one of their most basic needs is to have food. Your gift will ensure a cat or kitten will have a great beginning to their new life.
Sally was a nervous and malnourished little kitten when she was rescued by the ISPCA along with many other cats and kittens. The lack of neutering and spaying meant overbreeding and all were in very poor health. Sally slowly began to trust people and her confidence grew day by day. Sally received nutritious food and the veterinary care she desperately needed before being adopted by a loving family where she is well loved and cared for. 
When you purchase this thoughtful gift you will receive a beautiful printed card which acknowledges your donation and makes for a wonderful gift!

E-cards can be purchased at any time. Simply fill in the personalised details and it will be delivered immediately to your intended recipient.
Related Products